This is a temporary page until The Larick Centre is open and fully functional
The Larick Centre has 4 different spaces which can be hired separately or together.
Please read Conditions of Hire before hiring the spaces.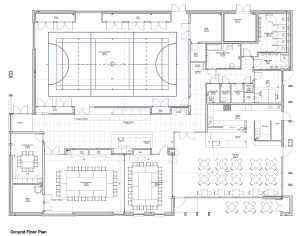 The Sea Eagle Hall
180m²(10m X 18m; 32ft 9.7" X 59ft)
It has a sprung wooden floor and a badminton court outline
Max 150 people depending on the activity
It has a high-pitched roof and it is soundproof.
Possible activities are: different kinds of sports – badminton, table tennis, touch tennis, Indoor toddler football, training for football, walking football, wheelchair football, indoor bowls, skittles, other ball sports training; martial arts; boxing.
Other activities are also possible such as: Cinema, Ceilidh; Entertainment; Theatre; music Bands; Events; Weddings /parties; Children's party, and many more.
Prices for hiring the Sea Eagle Hall
The Otter Room
65m² (9.50m X 6.80m; 31ft 2" X 22ft 3.7")
multi-purpose room also with a sprung wooden floor.
Max 45 people, depending of the activity
Possible activities, including: social gatherings, small cinema, speakers/AGM, youth club, training/workshop, large meetings, arts/crafts workshops, table tennis (1 or 2 tables), dance/ballet, martial arts, mat classes such as yoga, Pilates, etc.
The Red Squirrel Room
39.7m² (5.60m X 6.80m; 18ft 4.5" X 22ft 3.7")
is similar but smaller than the Otter Room.  Max 24 people depending on the activity.
It also has a sprung wooden floor and is particularly useful for: arts/crafts workshops, mat classes, training/workshops, Info & Advice sessions, small group work and meetings.
The Red Squirrel Room can be opened up with the Café area, which makes it ideal for a play area for toddlers under supervision of parents/carers/childminders; food-based workshops and Info/advice drop-ins.
The Otter Room and Red Squirrel Room can be linked as one large space of 102.7m² (15.1m X 6.80m; 49ft 6.5" X 22ft 3.7") and this can be opened up with the café area again.
Prices for hire the Red Squirrel Room
The King Fisher Room
21.3 m² (3.60m X 5.40m; 11ft 9.7" X 17ft 8.6")
Max 15 people but is very suitable for small group work, meetings, small workshops, group work, Drop-ins and Health & wellbeing Therapeutic sessions.
It is equipped with a projector and screen.