When:
16th September 2021 @ 11:15 am – 12:15 pm
2021-09-16T11:15:00+01:00
2021-09-16T12:15:00+01:00
Contact:
Lorraine MacKay
07949604940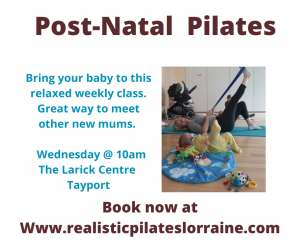 Realistic Pilates is a gentle and easy form of exercise; however its combination of strengthening and mobility moves can create a very intense and highly beneficial workout.
High fitness levels or great suppleness are not a necessary pre-requisite for Pilates.
In fact, Realistic Pilates enhances both of these conditions, whilst strengthening the 'core muscles' within the torso.
Realistic Pilates also develops breathing control, co-ordination and stability of the body, changing muscle lengths, relaxing and re-balancing the body.