When:
31st January 2021
all-day
2021-01-31T00:00:00+00:00
2021-02-01T00:00:00+00:00
Where:
The Larick Centre - car park

Contact:
Kyle Strachan
07813941287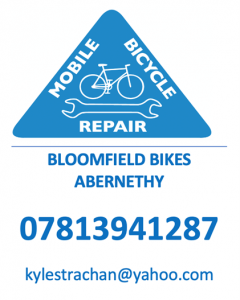 Book a slot with Kyle in advance, tel: 0781 394 1287
Dr. Bike will carry out a full inspection of your bike, similar to an MOT on your car. We'll help you make a plan to get you bike in the best condition possible, the scheme will cover the first £50 per individual. If anything more involved is required we'll help you make a plan for which you will have to cover the cost.
This event is provided in partnership between the Larick Centre, Kyle Strachan from Bloomfield Bikes in Abernethy and Cycling UK who manage the Scottish Government Cycle repair Scheme.
The scheme is aimed at people who wouldn't otherwise be able to afford standard cycle repairs at this time. Perhaps an old bike needs some work to make it roadworthy, or a well-used one but requires a service.
It is essential we follow the latest Covid guidance, so booking is essential.
Drop off your bike at the Larick Centre at your booked time in the morning, then collect it later in the day once we have contacted you, likely in the afternoon.
Please contact Kyle at Bloomfield Bikes to book a slot: 0781 394 1287
For more information on the repair scheme, see: www.cyclinguk.org/ScotCycleRepair