When:
18th January 2022 @ 7:40 pm – 8:40 pm
2022-01-18T19:40:00+00:00
2022-01-18T20:40:00+00:00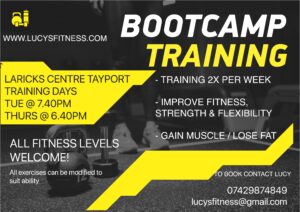 Fitness class with strength, conditioning and cardio training
For all levels of fitness
Boot camps are a fun, effective way to reach your fitness goals…
We meet twice a week outdoors or indoors for an hour of training.
Classes are designed with many variations to choose from dependent on your current fitness level.
If you can walk you can join Boot Camp!!!
Interested in a Boot Camp in your area with friends & family. Call Lucy!!!