Update on the Community Hub project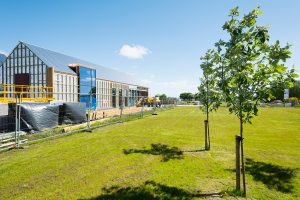 In our June Newsletter we said that the Community Hub was expected to open in October. Since then, the building contractors (Hadden Construction Ltd) have informed us that the project is further behind schedule and the expected opening date is now the end of November. Whilst this delay is disappointing for all concerned, Tayport residents can rest assured that our long-awaited Community Hub will open eventually: an event that will provide an excellent excuse for major celebrations! 
On a more positive note, the Community Hub has a new name…
In response to our request for suggestions, Tayport's residents excelled themselves, providing a list over 50 potential names for the Community Hub. The Board of Trustees reviewed this list at their August meeting and, after considerable debate, produced a shortlist from which the winning name was finally selected. We are pleased to announce that Tayport's Community Hub will henceforth be called The Larick Centre, a name closely associated with one of Tayport's iconic features (and TCT's adopted logo), the Larick Pile Light, which marks the Northern edge of Larick Scalp. We are hoping to make use of some of the other names suggested to identify individual rooms within the Larick Centre. 
Project Co-ordinator for the Larick Centre
Tayport Community Trust has appointed Yvonne Wynia as full-time Project Co-ordinator for the Active Tayport Programme which will ultimately be based in the Larick Centre. Yvonne's job will involve consultation with everyone using the Larick centre, stakeholders and the wider community. She will be responsible for establishing the Larick as a centre for a lively and varied range of activities, working with local groups, statutory agencies and the voluntary sector, and with local volunteers and staff. She will also have management responsibilities at the Larick, working with Tayport Community Trust. 
Yvonne started work on Monday 12 August and will be temporarily based in the Dolphin Centre on Mill Lane until the Larick Centre is open. During this time, she will be engaging in local consultations with the community and would welcome any ideas or questions about the Active Tayport Programme which you may have (email: yvonnewynia@tayportct.org.uk).