Tayport Community Trust (TCT) are delighted to announce that they have successfully raised sufficient funds to allow the Larick Campsite Project to go ahead. The funding has been received from Fife LEADER, The European Agricultural Fund for Rural Development: Europe investing in rural areas. We have been awarded a grant of £274,070 for the project from Fife LEADER, £120,000 from Resilient Scotland and an additional anonymous donation. Work is scheduled to start on 12th October, and we aim to deliver the £479,056 project by the end of February 2021. However, to allow the Trust time to ensure that all guests have a wonderful stay, the site will not be open until Easter.  Trustee of TCT, Richard Tough, who is leading the project, said " It's a very exciting time for us and I would like to thank our incredible fundraising team who have, yet again, worked so hard to secure the funding, especially in such challenging times. I would also like to thank Fife LEADER staff for their help and support through the application process."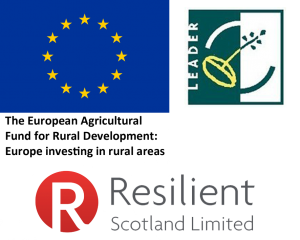 Background to The Larick Campsite Project
The Larick Campsite Project is TCT's response to a unique opportunity to develop sustainable and responsible tourism in this beautiful part of the Fife coast. Located right next to Tayport's newly constructed Larick Community Centre and Café, the site will offer a base for outdoor holidays with easy access to Tentsmuir forest and beach, Morton Lochs, the Fife Coastal Path and Dundee (with its renowned V&A Design Museum).  In conjunction with the Larick Centre, it will facilitate sustainable wildlife tourism, allowing visitors to enjoy the natural environment of this lovely stretch of the coast and provide an outdoor activity centre, based on partnership with several environmental agencies.  By attracting more visitors to Tayport, the Larick Campsite will boost the local economy and generate income to support much-needed community facilities.
Background to Tayport Community Trust
Tayport Community Trust was established in 2008 with the aim of promoting and supporting Tayport as a vibrant and sustainable community.  In pursuit of this aim, TCT has nurtured a variety of projects, including the Community Garden, the Harbour Café and the Larick Centre.  The Trust is a voluntary organisation with charitable status and has over 300 members.  Membership is free and open to anyone who lives in Tayport. To support and develop new and existing community projects, TCT needs volunteers with experience in areas such as marketing and media, information technology, accountancy, event organisation, community education and youth work, tourism, and the law.  Any of these skills (and many others) would be useful, but enthusiasm is the most important factor!  Contact enquiries@tayportct.org.uk if you would like to get involved.  Further information about the Larick Centre project can be found on the TCT website and on Facebook (https://www.facebook.com/TayportCT).