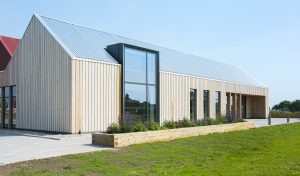 Tayport Community Trust is currently seeking a new volunteer Trustee to join the Board as Chair.
About Tayport Community Trust
Tayport Community Trust (TCT) was formed in 2008 to benefit the community of Tayport. It is a registered charity and companyvlimited by guarantee. The Trust's aim is to provide a structure that contributes to a vibrant and sustainable community, withvimproved quality of life, which allows the whole community the opportunity to meet their social aspirations.
In 2009, the Trust established its trading arm, Tayport Community Enterprises Ltd (TCE), (which has its own Board). TCE runs thevawarding wining Harbour Café. In 2014, PLANT (People Learning About Nature in Tayport) was formed as a fully constituted subgroup of the Trust. PLANT has created and runs a multi award winning community garden & fruit tree walk.
In March 2020, the Trust's most ambitious goal was realised, with the opening of Tayport's new Larick Centre, a multi-purpose and fully accessible community centre, offering local people opportunities for sport, leisure, learning and social events, as well as a meeting venue and base for sustainable tourism. TCT had raised £2.8M as the capital cost of the building and has recently secured further funding for a campsite next to the Centre.
Tayport Community Trust employees 6 staff and has over 50 volunteers. Its trading arm (TCE) currently employees 7 staff; when Covid 19 restrictions are lifted, it plans to employ a further 5 staff. TCE also has a dedicated number of volunteers.
The Trust and its trading arm have a potential annual turnover of £600k, ensuring that its activities are sustainable into the future without further grant funding. Profits will be earmarked for local projects.
Current Chair's duties include:
Attend Trustees Meetings (6 to 8 meetings pa).
Ensure that the Board functions properly.
Ensure that the organisation is managed effectively.
Provide support and supervision to the Trustees.
Represent the organisation.
Ensure that the Board has a good base of skills to manage the Trust, and that succession planning is in place.
Ensure that all groups' strategies are aligned with the principles of TCT.
Requirements of the new Trustee Chair
The Trust is now entering a new phase in its development. The Larick Centre building programme is complete, and there are exciting new challenges. The focus will be on strategic management, as well as support to staff, whose role is to ensure that the Centre is home to a diverse and vibrant range of activities, responsive to local need. We are looking for an experienced Chair who will help the Trustees build on its success and ensure that the Board has the relevant experience for the continuing success of the Trust.
Applications are invited from those with an interest in co-operative working and a passion for excellence, who can demonstrate:
a commitment to the aims, values and work of a community based organisation
strong understanding of the role of a Trustee Chair
experience of operating at a senior management level of organisations
experience in chairing meetings
experience in mentoring and training others
an understanding of how to monitor performance.
the ability to contribute to the review of a strategic direction.
the ability to work closely with our Trading Arm (TCE) board
The appointment will commence from January 2021
If interested, please contact Richard Tough on 07927 806221 or email richardtough@tayportct.org.uk