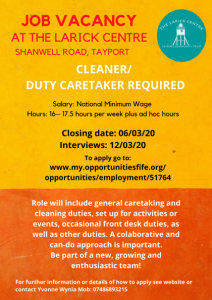 Cleaner/duty caretaker required for 16-17.5 hours per week plus ad hoc hours.
Salary: National Minimum Wage
General caretaking and cleaning duties; setting up for activities and events,
occasional front desk duties as well as other duties.
Interested and want to join a new, growing and enthusiastic team,
whilst having a colaborative and a can-do approach?
Then apply online now: Opportunitiesfife.org
Closing date: 06-03-2020
For more information contact: Yvonne Wynia, Project Coordinator The Larick Centre.